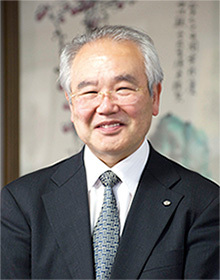 Tokushima University celebrated its 70th anniversary in 2019. We plan to further strengthenour education, research and social contributions, in order to make even greater advances thatsolve global issues including the Sustainable Development Goals (SDGs) from a regionalstandpoint.
 In the year 2020, we have merged the master's degree programs at the Josanjima Campus intothe new Graduate School of Sciences and Technology for Innovation (offering programs in
Regional Development, Clinical Psychology, Science and Technology, and Bioresource Science)concurrently with the graduation of the inaugural class of students from the Faculty of Bioscience and Bioindustry. Consequently, thecurrent post-graduate education is composed of eight graduate schools which include the Graduate Schools of Integrated Arts andSciences, Medical Sciences, Oral Sciences, Pharmaceutical Sciences, Nutrition and Bioscience, Health Sciences, and Advanced Technology and Science. We also have two research-focused organizations of faculty embers: the Graduate School of Technology, Industrial and Social Sciences and the Graduate School of Biomedical Sciences.
 Our undergraduate programs are offered through six faculties: the Faculty of Integrated Arts and Sciences, the Faculty of Medicine, the Faculty of Dentistry, the Faculty of Pharmaceutical Sciences, the Faculty of Science and Technology, and the Faculty of Bioscience and Bioindustry. We are also home to the Institute of Advanced Medical Sciences, which leads the world in cutting-edge life sciences research;the Institute of Post-LED Photonics, which conducts research into innovations that tap into the power of light to secure the future of our world; and the Industry-University R&D Startup Leading Institute, which promotes academic-industrial collaboration at the organizational level and adopts a systematic approach to the formation of startups.
In addition, our university hospital is a leader in the provision of state-of-the-art medical care. While Tokushima University's strengths lie in the sciences, we also offer a sound education in the humanities through the Faculty of Integrated Arts and Sciences.
 This distinctive array of schools is one of our key features and, over the years, we have nurtured many high achievers. One such eminent alumnus is the recipient of the 2014 Nobel Prize in Physics, Professor Shuji Nakamura (Materials Department, College of Engineering, University of California Santa Barbara (UCSB)), who earned his master's degree from Tokushima University's Graduate School of Engineering. Other notable alumni include Dr. Keiji Tanaka (Chairperson, Tokyo Metropolitan Institute of Medical Science), who pursued a career in the life sciences after graduating from our Faculty of Medicine' s School of Nutrition and has been honored by the nation as a Person of Cultural Merit, and, in the world of industry, Toshiaki Higashihara, a graduate of our Faculty of Engineering who is now Representative Executive Officer, President & CEO and Director at Hitachi, Ltd. Besides these alumni, many other Tokushima University graduates make an active contribution in a multitude of fields.
 To bring the whole university together in pursuing an integrated approach to education and research, we have established collaborative frameworks known as research clusters and education clusters. In addition, we founded the Center for Community Engagement and Lifelong Learning to enhance partnerships with the community and are pursuing partnerships with companies through the Center for Research Administration & Collaboration and the Industry-University R&D Startup Leading Institute. To secure new sources of external funding, we are making use of the Otsucle academic crowdfunding platform, as well as providing support for research expenditure by setting up the university' s own investment partnership. These approaches also enable us to work in partnership with various organizations, including other universities. We hope that you will continue to support the endeavors of the faculty members and students of Tokushima University.

The vision and mission of Tokushima University
Vision
Tokushima University will search for truth, create knowledge, and inherit and develop eminent sciences and cultures with a spirit of independence and autonomy. We will contribute as a global university to establish a robust and abundantly prosperous society.
Mission Statements
Education
To educate students systematically and practically to inspire them to feel, consider, and study with ambition for all their lives.
To cultivate future leaders who can autonomously attempt to address world-wide problems with enterprising spirits.
Reseach
To conduct research that explores fundamental truths through unfettered thought.
To conduct research that solves social issues on the earth.
To contribute to the peaceful development of the international and regional community by returning the research products of the university to society.
Social contribution
To be the center of a network of knowledge linking the regional community with the world in order to establish a peaceful and cultural community of nations and a vibrant regional society.
To be a base for social advances through cooperation among industry, government, and academia, establishing new industries in the regional community, while supporting lifelong learning by opening the facilities of the university to the public.
Sumihare Noji
President, Tokushima University