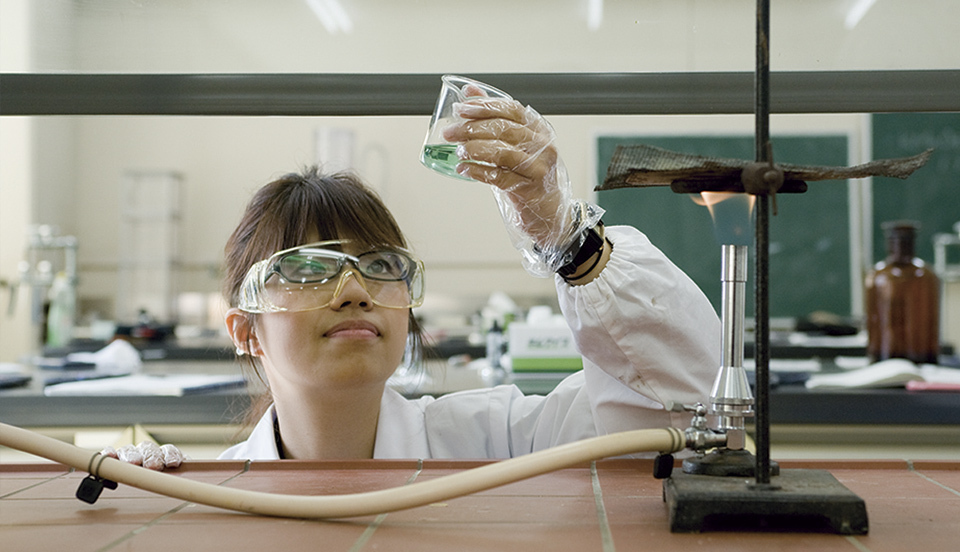 About this department
Department of Applied Chemistry seeks to produce professionals who can contribute to the frontier development of chemical technology based on three education and research fields, namely the synthetic and polymer science, the physico-chemical materials science, and the chemical process engineering. To achieve that goal, we value both basic academic skill and application ability. Therefore, our education program has been designed so that the students obtain a wide range of knowledge not only on engineering but also on basic science and other fields of liberal arts.
Unique
Our education program values both basic and specialized subjects to understand the fundamentals of chemistry. Laboratory works are emphasized and used to deepen the students' understanding of the classroom subjects. The "TOEIC-IP" exam is used to improve the students' English proficiency. Also, in the group work, a group of several students choose and study a chemical topic and orally present the result to improve their presentation skill. Furthermore, interaction between the students and the faculty members is promoted by events such as the Freshman training and sports competition.
Introduction
Synthetic and Polymer Chemistry
This group provides education and research on the creation of high value-added substances and highly functional materials through the application of basic chemistry and its methods, including the synthesis of organic and polymeric compounds, separation analysis, and clarification of reaction mechanisms. We have research groups in synthetic organic chemistry and polymer chemistry, and pursue the dream of creating new materials and substances that are useful in our daily lives. It is no exaggeration to say that the 21st century is truly an age of atoms and molecules, and the dream of "molecular design," which is the goal of this group, will expand endlessly.
Physico-chemical and Materials Sciences
We focus on subjects on various functions of natural and artificial substances. We investigate the functions of each substance through chemical and physical measurements, and the outcomes will be utilized for human welfare. We also design and synthesize novel substances to develop the functions. This is a pleasure of studying chemistry.
Chemical Process Engineering
In modern society, it is required to create materials and reactions that satisfy "breakthrough new functions" and "environmental care" simultaneously and apply them to on-site production processes. The 21st century is an era in which such process development is desired, and students and faculty members are working together to achieve these goals.